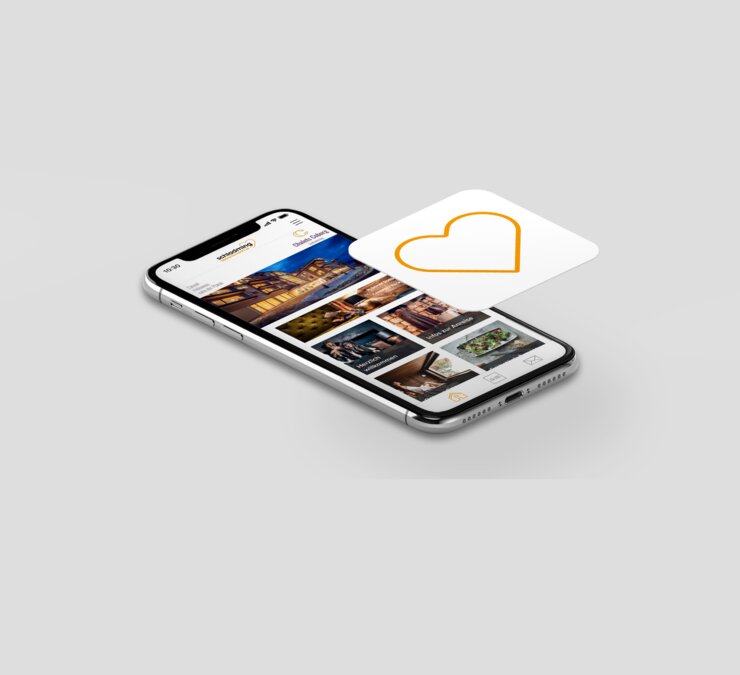 ALL QUESTIONS & ANSWERS ABOUT YOUR STAY
Here you will find all information, offers and tips for your stay in the Chalets Coburg.
Order breakfast & rolls & book unforgettable experiences,
Find important things quickly & explore the surroundings, communicate wishes
Redeem bonus card benefits on your mobile phone
TO THE DIGITAL GUEST MAP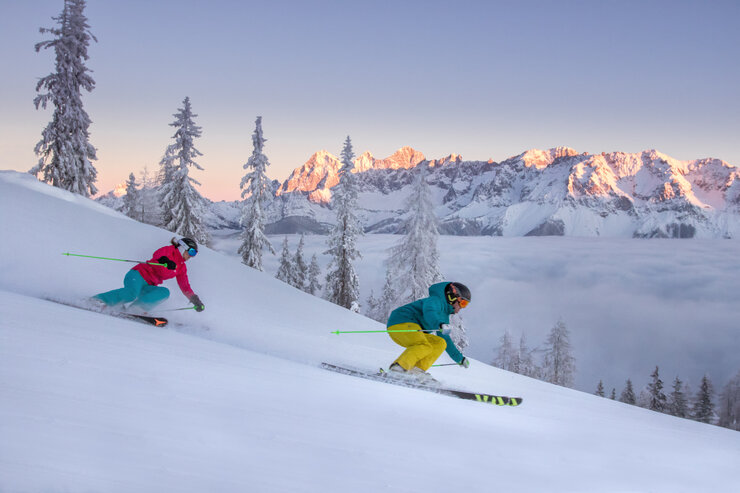 CHECK YOUR SKI PASS FOR THE BEST PRICE NOW
With the Ski Amadé Online early bird bonus you can secure the ski pass at a special price here.
In the seasons up to December 23, January 7 to 27 and from March 18, we offer discounted ski passes including a 7% discount on the overnight price as part of our ski packages. Inquire here! info@chaletscoburg.at
ORDER ONLINE SKI TICKET HERE
AN/ABREISE
Die gemieteten Appartements können am Ankunftstag ab 15.00 Uhr bezogen werden. Am Tag der Abreise
sind die Appartements bis 10.00 Uhr freizugeben.
EARLY CHECK-IN/LATE CHECK-OUT
Sollte das Appartement vor Ihrer Anreise nicht belegt sein, bieten wir Ihnen die Möglichkeit eines EARLY CHECK IN's (ab 8.00 Uhr) an. Die Kosten hierfür liegen bei € 20,00 pro Appartement. Eine mögliche vorzeitige Anreise ab 12 Uhr ist kostenfrei. Sollte das Appartement an Ihrem Abreisetag nicht mehr gebucht sein, bieten wir unseren Gästen die Möglichkeit eines LATE CHECK OUT's (bis 17.00 Uhr) an. Die Kosten hierfür liegen bei € 20,00 pro Appartement. Diese Möglichkeiten sprechen wir gerne mit Ihnen telefonisch ab, in unserem Servicebüro oder Sie schicken uns eine Nachricht über unser Gastfreunde-Tool.
ANZAHLUNG
20 % der Gesamtsumme, innerhalb von 14 Tage nach Buchungsabschluss.
Bei nicht fristgerechter Bezahlung bitten wir um Verständnis, dass wir die Unterkünfte anderweitig vergeben müssen.
RESTZAHLUNG
'Bis 2 Wochen vor Anreise per Banküberweisung/Kreditkarte oder beim Check-In in unserem Servicebüro in Schladming/Rezeption Sun Lodge/Rezeption Chalets Coburg.
BEZAHLUNGSMETHODE
ARRIVAL/DEPARTURE
The rented apartments can be occupied from 3 p.m. on the day of arrival. On the day of departure
the apartments must be vacated by 10 a.m.
EARLY CHECK IN/LATE CHECK OUT
If the apartment is not occupied before your arrival, we offer you the option of an EARLY CHECK IN (from 8 a.m.). The costs for this are € 20.00 per apartment. A possible early arrival after 12 p.m. is free of charge. If the apartment is no longer booked on the day of your departure, we offer our guests the option of a LATE CHECK OUT (until 5 p.m.). The costs for this are € 20.00 per apartment. We would be happy to discuss these options with you by telephone, in our service office, or you can send us a message using our hospitality tool.
DOWN PAYMENT
20% of the total amount, within 14 days after booking.
If payment is not made on time, we ask for your understanding that we have to give the accommodation to someone else.
FINAL PAYMENT
Up to 2 weeks before arrival by bank transfer/credit card or when checking in at our service office in Schladming/Sun Lodge reception/Chalets Coburg reception.
PAYMENT METHOD
Bank transfer, cash payment or payment by credit card/PayPal will be accepted for the deposit or balance of the booking
or accepted by debit card. You are also welcome to give us your credit card details.
BANK TRANSFER
Payments free of charge for the beneficiary (bank charges will be charged).
Account holder: Schladming Apartments Maria Gruber GmbH
Account no. 00030256747, BLZ: ​​43030, Volksbank Steiermark AG
IBAN: AT294477000030256747
BIC: VBOEATWWGRA
DEPOSIT
Please note that a pre-authorization will be made on your credit card upon arrival for the amount of the security deposit. This will be deleted no later than 1 week after your departure.
CANCELLATION CONDITIONS WINTER 2022/2023 and SUMMER 2023 - MONEY BACK GUARANTEE
We guarantee free cancellation of your booking 14 days before arrival and offer a "MONEY BACK GUARANTEE" in the event of cancellation within the framework of the cancellation conditions. Valid for bookings made between November 19, 2022 and April 15, 2023.
After that we charge the following percentage cancellation fees:
Up to 14 days before arrival: free cancellation
From 13 days to 7 days before arrival: 70% of the total price
From 6 days before arrival or no-show: 90% of the total price
The receipt of your message at the booking office is decisive (in the case of Sundays and public holidays, the next working day is decisive).
We recommend taking out travel cancellation insurance.
GENERAL TRAVEL CONDITIONS
https://www.chaletscoburg.at/de/Appartements/Reisebedingungen
TRAVEL INSURANCE:
We recommend that you take out travel insurance from Europäische Reiseversicherung for your protection.
https://www.chaletscoburg.at/de/Services/Reisestornoversicherung
ALL-ROUND SERVICE
We are there, 365 days a year - 24 hours a day! Our employees at the reception are at your side every day during opening hours with advice and action. We are available 24 hours on our emergency number in an emergency! Here you will find all our contact details
EARLY CHECK IN & LATE CHECK OUT
If available, we will be happy to offer you an "early check-in" or "late check-out" upon request. Please contact us a few days before your arrival or departure about the possibility of extending your holiday. We charge € 20 for late check-out.
DOGS WELCOME
Our four-legged guests are very welcome. We provide a package for our four-legged friends. Our Schladming-Dachstein region is ideal for long, extensive walks and hikes in nature, along river banks or through spectacular gorges. Costs €15 per day and per animal, can be booked directly online or on site upon arrival. More info
E-BIKE RENTAL
Choose one of the many mountain bike or cycle tours in Schladming-Dachstein and enjoy the breathtaking mountain experiences. In summer, we provide our guests with e-bikes in sizes S-L (from a height of 1.45m) for hire. Book directly online or on site depending on availability.
Adults € 25
Children up to 12 years € 10
LAUNDRY SERVICE/TOWEL CHANGE
The laundry package consists of an upholstery cover, a blanket cover, fitted sheet, small and large towels, a sauna towel with bathrobe and sauna slippers, as well as a bath mat and tea towel. As a rule, bed linen and towels are not changed during your stay, but you are welcome to pick up a free change of towels (sauna towel, bath towel, small towel) at reception once during your stay. You will receive a voucher card upon arrival.
WASHROOM
On the ground floor of the CHALETS COBURG you can use a washing machine and a tumble dryer by inserting a coin. Cost per wash/dry cycle € 1.00.
IRON/IRONING BOARD LOAN SERVICE
You can borrow an iron and ironing board from reception for a deposit of €10.00.
TRANSFER/RENTAL CAR
Free pick-up from Schladming train station by our staff, organization of airport transfers. Our taxi partners are also available for business, excursion or shopping trips. Of course, we also carry out short-distance transfers - as far as our capacities allow.
SHOPPING SERVICE
So that you have more time for your holiday, we will be happy to fill your fridge with food or drinks. We shop for you! Upon arrival, your fridge will be stocked with items that you have pre-ordered. Please contact our reception.
COTS/HIGHCHAIRS
We provide our guests with cots and high chairs free of charge. We do not provide children's bedding.
MASSAGES
We would be happy to arrange an appointment for you. We kindly ask you to notify the reception desk of your desired massage in good time.
CATERING
In cooperation with local restaurants we can offer catering, take-away and delivery service.MORE INFO
SKI SCHOOLS & SKI RENTAL
As a guest, you will receive a discount of up to 10% and more in one of our holiday homes with our selected bonus partners in all holiday locations. Our bonus partners
ALL INCLUSIVE SUMMER CARD
valid from May 18th to November 1st, 2023 and included in the overnight price. You will receive the summer card for FREE upon arrival. With the all-inclusive summer card, you get free entry to over 100 top leisure attractions and up to 50% discounts at over 100 bonus partners. And the best is:
You will receive the Sommercard free of charge and for the whole family upon your arrival.
The Sommercard is available from May to October and is available from 1 p.m. on the day of arrival
and valid all day on the day of departure!
Kids Card: Our little guests receive their own summer card.
More than 40 holiday activities are included especially for families. All information about the included services
CONCIERGE/ ENABLER / BUSINESS SERVICE
We are happy to organize any kind of appointments and bookings for you, such as ski courses, golf tee times, golf courses, summer card services, table reservations, massage & beauty appointments and much more.
You can use our unlimited FREE WLAN in all apartments as well as in the lobby and lounge.
We are also happy to take care of your fax and postal dispatch.
BONUSCARD
As a guest of Schladming-Appartements, over 30 discount partners grant you many price advantages and reductions, which you can use in certain shops, restaurants, rental shops or even with transfers. Upon arrival you will automatically receive the Schladming Appartements bonus card free of charge, which entitles you to redeem your price advantage with all the service providers listed. The card is valid per person and for the duration of your stay. All information about the bonus partners and bonus services
In addition to many other benefits, you will receive:
10-15% on mountain bike rental
10% on ski and snowboard rentals and ski courses
10% on the ski service
15% off an item at Blue Tomato
as well as many other advantages